Make Your Bed: Little Things That Can Change Your Life…And Maybe the World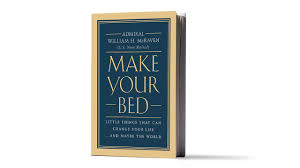 This morning I got up, feeling like sharing an article I read from the Washington Post recently. It has been written by a person who will probably have some real impact on the next generation of students and professionals:William H. McRaven.
The advice he gives are rather simple, but do we really try to apply them in our lives? It reminds me of "the One Minute Manager" from K. Blanchard and S. Johnson book we have already commented here which also proposes simple input, which are really powerful when implemented.
By Franck Tourtois.
My participation in the MIRVOG workshops a few years ago to help French general officers who wanted to join private companies at the end of their military career made me meet individuals of great value. And having very great values, too.
So I remain alert when general officers, regardless of their nationality, make the news because they talk about what their military experience has brought them and how it can be transposed into the private, professional world. So in 2014 I watched the following video, apparently as many millions of people did.
And I pounced on his book as soon as it was published.
Nothing really new in this little book, but more examples and more details.
The message is as valid as ever:
I will not give you a summary of the book because it is really short. But for those of you who do not have the necessary 19 minutes to see the video or the 2 hours it takes to read the book, I will give you here the 10 'lessons' that the book contains.
1. Start the day by completing a task.
2. You will not be able to do it alone.
3. Only the size of your heart counts.
4. Life is not fair? So what!
5. Failure can make you stronger.
6. Take risks.
7. Stand up to the bullies.
8. Be your best at the darkest moments.
9. Give hope.
10. Never give up.
In doing so, I hope to make you feel like knowing more, because the titles of the 10 lessons, as evocative as they sound, are still laconic.
For many of you, all these 'lessons' are no breaking news. And I agree: they are not.
Or rather it should be, but 'Common Sense' unfortunately does not often involve 'Common Practice'.
Okay, now that I've written this little article… I'm starting my working day ;-p
NB: For those of you who are interested, here is the letter that Admiral William H. McRaven wrote in the Washington Post to President Trump. A nice illustration of Lesson Number 7: Revoke My Security Clearance Too Mr. President
---
Si tu veux changer ta vie, commence par faire ton lit !
Ce matin, je me suis levé avec l'envie de vous faire partager un article que je viens de lire dans le Washington Post et qui date de cet été. Et qui a un rapport avec l'auteur d'un livre qui va certainement marquer des générations d'étudiants et de professionnels.
Pourtant, les conseils sont relativement simples, mais les appliquons-nous vraiment ? Cela me fait penser au livre "Manager Minute" de Ken Blanchard et Spencer Johnson, qui donne aussi des conseils simples, mais tellement puissants quand ils sont appliqués !
Ma participation aux ateliers de la MIRVOG, il y a quelques années, pour aider les officiers généraux français qui le souhaitaient à entrer dans des entreprises privées au sortir de leur carrière militaire, m'a fait rencontrer des individus de très grande valeur. Et ayant de très grandes valeurs, également.
Aussi je reste en alerte lorsque des officiers généraux, quelle que soit leur nationalité, font l'actualité parce qu'ils parlent de ce que leur expérience militaire leur a apporté et comment celle-ci peut se transposer dans le monde professionnel privé. J'avais donc vu en 2014 la vidéo suivante de  William H. McRAVEN, comme apparemment plusieurs millions de personnes.
J'ai donc sauté sur son livre lorsqu'il a été publié.
Rien de nouveau véritablement dans ce petit ouvrage, mais plus d'exemples et plus de détails.
Le message est toujours aussi valide.
Je ne vais pas vous faire de résumé du livre car il est vraiment court. Mais pour ceux d'entre vous qui ne disposeraient ni des 19 minutes nécessaires pour voir la vidéo ou un heure et demi qu'il faut pour lire le livre, je vous donne ici les 10 'leçons' que le livre contient.
Commencez la journée en ayant accompli une tâche.
Vous n'y arriverez pas seul.
Seule la taille de votre cœur compte.
La vie n'est pas juste ? Et alors !
L'échec peut vous rendre plus fort.
Prenez des risques.
Tenez tête aux brutes.
Soyez à la hauteur.
Donnez de l'espoir.
Ne renoncez jamais.
En faisant cela, j'ose espérer vous donner l'envie d'en savoir davantage, car les titres des 10 leçons, bien qu'évocateurs sont tout de même laconiques.
Pour beaucoup d'entre vous, tout cela pourra apparaitre bien banal. Et j'acquiesce : ça l'est.
Ou plutôt cela devrait l'être, mais 'Common Sense' n'implique hélas pas souvent 'Common Practice'.
Bon allez, maintenant que j'ai écrit ce petit article… Je commence ma journée de travail :-)
NB : pour ceux d'entre vous que cela intéresse, voici la lettre que l'Amiral William H. McRaven a écrite dans le Washington Post au président Trump. Une belle illustration de la leçon n°7
https://www.acmentoring.com/wp-content/uploads/2018/08/Make-your-bed-book.jpeg
168
300
Cyril Ogee
http://www.acmentoring.com/wp-content/uploads/2019/07/logo-noir-ac-mentoring-357x76-300x64.png
Cyril Ogee
2018-08-23 16:40:38
2019-08-16 16:12:20
Make Your Bed: Little Things That Can Change Your Life…And Maybe the World